The benefits of investing in a farm home
When faced with the need for more housing space on your farm, the last thing you want to think about is the stress and pressure of how this will work. Combine this with the daily operations of running a farm and the idea of building a new farm home could seem unrealistic. Whether you're after additional space for visitors, in need of accommodation for farm workers, or would like to make the most of your property by investing into rural accommodation then a Manor Build prefabricated farm home could be the perfect option.
Manor Build provides a wide range of designs, with many options to suit your needs. Whether it's a four-bedroom home that boasts space for entertainment or a two-bedroom villa with traditional country charm, there is a design for every purpose.


So, why choose a prefabricated home?

We've previously talked about transportable homes, but why is a transportable prefab home a beneficial option for your farm? Here we've outlined some of the key benefits to investing in a prefabricated farm home:
Cost Saving
When deciding to build a new home most people first consider the costs involved. From selecting which company to go with, to deciding on the materials you want and the time it will take to build, over time these decisions can be costly if not considered carefully.
If you're building a farm home it's important to keep in mind the labour costs involved. A conventional build incurs labour costs from both tradies and contractors driving to and from your property. With a property that's located out from the main hubs and the months a conventional build can take to complete, this cost of travel can quickly creep into the budget, making it difficult to avoid a budget blowout. Choosing a prefabricated farm home means it's built in a factory, automatically eliminating tradies and contractors travel time, resulting in less labour costs. The single delivery cost of the prefabricated home can often be lower than the combined travel expense from multiple tradespeople journeying an hour plus each day.
A prefab home being built in a factory versus a conventional build results in a quicker build turnaround, ultimately resulting in better value for money. By saving in other areas of construction, a prefabricated home can offer additional high-end features that other builders might charge a premium for.
Being well aware of the costs involved with a prefabricated build is another cost saving measure as you're more aware of where it sits within your budget. Manor Build has many house plans available with farm homes ranging between $159,000 and $282,000, meaning you're receiving a brand new home with lower ongoing maintenance costs.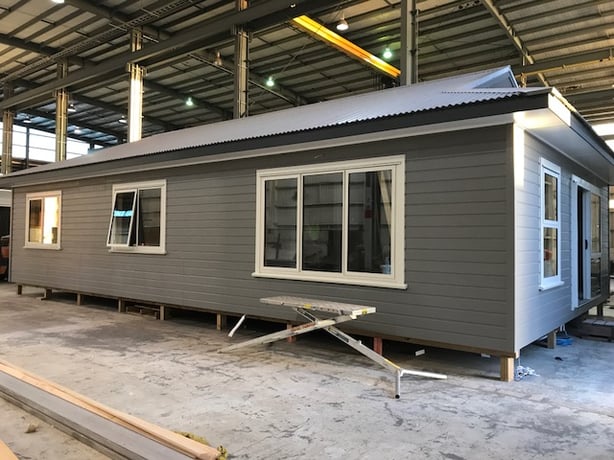 Health and safety compliance
Health and safety on a farm is paramount. Farmers are required to ensure that their farm is compliant with the health and safety laws prior to tradies and contractors coming onto the property. Like all other workplaces, farm workplace health and safety laws need to apply.
To protect the health and safety of contractors and tradies it's important farmers must make sure:
Any risks from farm work are managed, eliminated or minimised

Any risks of previous work carried out on the farm are managed

All farm buildings and any area which work is being completed is safe for everyone involved
Reducing foot traffic by choosing a prefabricated farm house build ensures you are reducing your risk from a health and safety incident. With a prefab home being built in a factory you're not risking the daily exposure to an issue from sub-trades and therefore you're at a reduced risk for a health and safety liability. As always, it's important to read the guidelines so you're well aware and informed prior to making an informed decision.
Time effective
Not only are you saving costs with a prefabricated farm home, you're also saving on time, with short build times. As previously mentioned the daily operation of running a farm is time consuming, making it hard to see where a house build could fit in. Conventional homes can take many months to complete, while prefabricated homes are built and assembled in a factory in as little as six to eight weeks, without the delays caused by the temperamental New Zealand weather!
Manor Build uses an intelligent systemised building process to ensure a fast and predictable time frame is achieved and once your prefab farm home is on your property, it only takes another two or three weeks to finish things off until it's fully complete. A positive if you're needing farm worker accommodation as soon as possible!
Not only are you saving time with a prefabricated farm home you're also minimising the disruption to your farm and property, therefore minimising the disruption to your day to day activities.
Healthy Homes compliant
Whether you're after an additional farm home for staff accommodation or an investment property, your home will need to meet the healthy homes standards. If you have an existing farm home, it can become a lengthy and time consuming process to ensure it's compliant. By the time you make sure your farm home is warm, dry and free of mould and mildew you can easily open a can of worms, before you know it you're over budget and not too far off purchasing a brand new prefab farm home for between $159,000 and $282,000.

From 1 December 2020, landlords must include a statement of their current level of compliance and from 1 July 2021, private landlords must ensure their rental properties comply with the healthy home standards within 90 days of any new or renewed tenancies. A prefabricated home ensures your home is compliant, saving you time and the cost involved in not having to worry about the upcoming deadlines.
Attract and keep the right staff
Finding capable farm workers can be a difficult task, therefore it's important to attract and keep the right workers from the get go. Investing in a quality farm home for a worker and their family has many benefits for both the landlord and the worker.
Providing farm worker accommodation can be a point of difference when a worker decides which farm they would like to work on. By investing in a farm home you are not only attracting the right workers but you are able to offer something many other farms can't. This can result in good quality applicants, and an increased chance of retaining employees for longer periods of time.
Farmers may be able to take advantage of tax deductions when providing a house for accommodation of staff, which is another cost saving benefit. Please seek professional tax advice as every situation is different.
Additional revenue source
With domestic travel within New Zealand on the rise there is a high market for domestic destination travel. Offering farm accommodation such as a farm stay or retreat provides both tourists and locals with the opportunity to immerse themselves in a rural setting. This could be a perfect opportunity for an additional revenue source and what better way than to make the most of an asset you already have!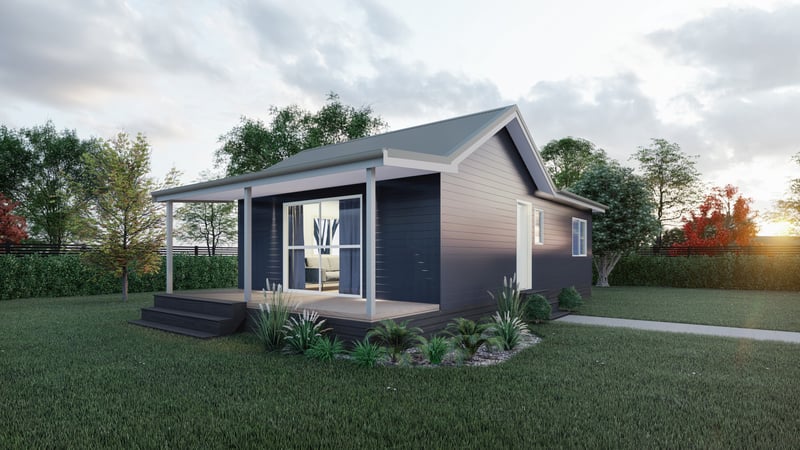 As mentioned a prefab farm home provides many benefits for a farmer. They are often cheaper and quicker to build than a traditional on-site build. With a prefab home being built in a factory it means your farm home is delivered straight to your site without the issues that come with foot traffic, weather, and compliance issues that can come with a conventional build.

Manor Build provides high standard prefab homes, offering flexibility and customisation to suit your needs. If you're considering a farm home or you're after additional space then consider talking to a member of our team to see if a prefab home is the right option for you. Check out some of our house plans here or enquire with us here to discuss your needs.
To download our farm homes brochure click the button below.
Tags: New Home Relocatable Home prefab home prefabricated home transportable home farm home