Traditional new-build vs prefabricated homes, what's the difference?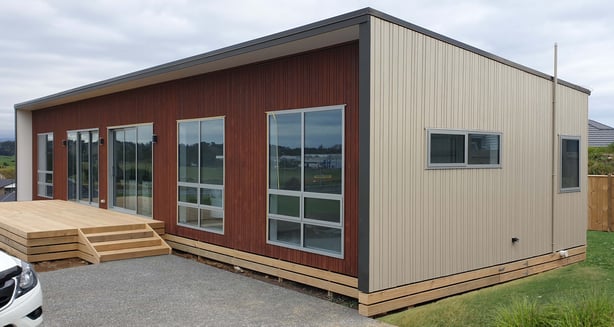 When comparing a traditional on-site build with a prefabricated home, you'll often notice that prefab homes are cheaper and can be built quicker. Seems too good to be true right? So what's the catch?
Because they're built in a quicker time frame and they come in at a much lower cost, many people assume that prefab homes must be of lower quality. That is simply not the case, in fact often the opposite can be true, prefab homes can actually be higher quality!
We look at why the build times are quicker, the costs are lower, and why prefabricated homes are built stronger:
Prefab homes are not delayed by bad weather.

Because a prefabricated home is built indoors, construction can continue uninterrupted even when the weather would stop builders on-site at a traditional new-build from working.



Before the house is weather-tight it is kept safe inside the factory.

While most house framing can stand to get a little wet during a traditional on-site build, there are flooring and wall sheathing materials that can swell if they get wet. This is simply not an issue that prefab homes have as they are safely built inside a factory out of the rain.



Prefab homes can often be stronger than traditional on-site built homes.

As prefabricated homes need to be transported from one location to another they require extra bracing and strengthening for the move - the end result is an incredibly strong built home.



You could be paying for staff travel time with an on-site build.

An on-site build will require builders and tradespeople to travel to your site location, and if you're rural that means you're paying for a lot of in-car drive time! With a prefab home, staff simply have to turn up to the factory at the start of the day so there are no staff travel costs affecting the price.



Materials often cost less for a prefab home.

Prefabricated home companies specialise in simply that, homes. This means they are able to buy materials in bulk to get greater savings, especially as they have large factories to store the materials in. Tradespeople often have less storing options and are buying smaller volumes of materials so they have just enough for the job they're currently working on.



Fixed prices with a prefab home allow you greater budget control.

As prefabricated homes have fewer variables (not being held up by the weather for example) they are able to provide fixed pricing. Often with a traditional build, you will receive conditional pricing with an allowance for 'unknowns'.



Plumbing and electrical fittings are often easier to access.

Traditional on-site builds require a large concrete pad for the foundation. This means that pipes are often set into the concrete floor which makes access a lot harder. Prefab homes are built on timber piles giving space under the house for plumbing and electrical. Should you wish to access these or make changes down the track your tradespeople will have no issues accessing them.



Lean manufacturing processes result in fewer defects, lower cost, and faster build.

We employ a lean manufacturing process, which means we have a systemised approach to reducing scrap, rework, delays and unnecessary motion resulting in a cost-savings we can pass on to you.


As you can see there are some straightforward reasons why a prefabricated home can be cheaper than a traditional build while being faster, stronger and simpler. But if you don't believe us, come and see for yourself. It's easy to see how a timber frame house is built because you can see the slow progress out in the open but when a house suddenly appears on a section complete and almost ready to live in it can go unnoticed!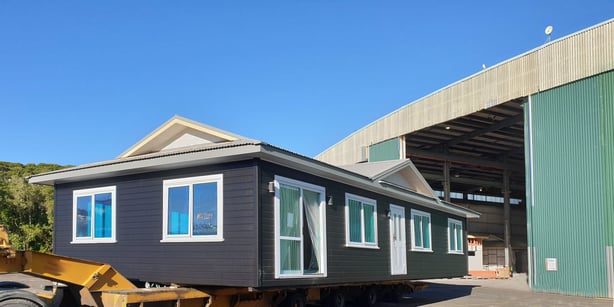 The good thing about viewing houses in the factory is that you can often see them at various stages of the build to better understand the process they go through. From the subframe to the interior paint there's often a house at each stage to show you a snapshot of the process each house goes through. This means you can often see a 12-week process all in one day!
Discover our range of prefabricated homes designs by downloading our digital brochure, from here you might just find the perfect home for you or find a good starting point that we can customise to build the house of your dreams.
And if you'd like to visit the factory and understand more about the prefab home process you can book a visit by clicking the button below.
Tags: Prefab home