Does a Manor Build home meet the Healthy Homes standards?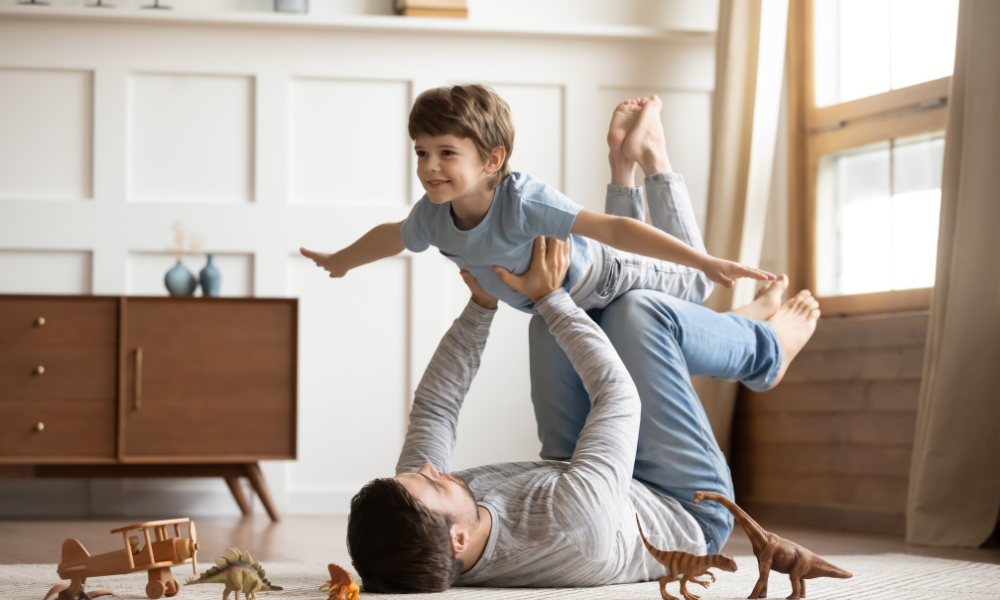 Whether you're looking to buy a Manor Build home for yourself, or as an investment property, it's important you consider whether it meets the best guidance for liveability. On average, New Zealanders spend 69.7% of each day at home indoors. As this makes up a large portion of our time, it is even more important to make sure the home that you live in, or rent out, is safe and healthy for you and your tenants.
The government launched the healthy home standards in 2019 to help protect individuals and families who rent homes in New Zealand. Introducing these standards played a significant role in improving the wellbeing of New Zealanders and their families all across the country.
The healthy homes standards introduce specific and minimum standards for heating, insulation, ventilation, moisture ingress and drainage, and draught stopping in rental properties. As cold, damp and mouldy homes have negative health outcomes and can be the leading cause of illnesses such as asthma and cardiovascular conditions, it's important to prevent these issues from taking hold early.

But why should the healthy homes standards only apply to rental properties? Here at Manor Build, we feel that every home should be built to the highest quality, whether rented out or owner-occupied. This is why all our homes meet and exceed the healthy homes standards. Below we have outlined the healthy home standards and explained how we meet these obligations.
Heating

"All properties must have one or more fixed heaters, which can directly heat the main living room and meet a required heating capacity. Certain heating devices that are inefficient, unaffordable or unhealthy will not meet the requirements of this standard. A heating assessment tool is provided at tenancy.govt.nz/heating-tool, which provides a report that shows the minimum heating capacity required. It can be used to check if current heating is sufficient to meet the standard, or if it is necessary to install a new heater." - Tenancy Services
How does Manor Build comply with the heating standards?


All Manor Build homes come with a Hitachi heat pump that is installed in the main living area. This is a standard inclusion, which means no home will leave our yard without one. A heat pump is a built-in heating source which means that it meets the heating fixture criteria. One of the most common models that we install is the Hitachi RAS-60YHA3 7.0kW heat pump/air conditioner which releases a 7.0kW heat, COP 3.52, 6.0kW cool.
The Hitachi heat pump provides exceptional heating and cooling comfort, easy operation, substantial power savings, and full control for our homes. The latest range of heat pumps provides quiet operation, high efficiency, and simple controls meaning that they add another level of comfort to your home.
Hitachi heat pumps maintain low running costs by providing more heating or cooling energy than they use. For every 1.0kW of electricity used, as much as 4.7kW heating and 4.5kW cooling can be delivered. So for every $1.00 you spend on the power you can receive as much as $4.70 heating in return.
Insulation
"Insulation requirements are measured by R-value. R-value is a measure of resistance to heat flow. The higher the R-value, the better the insulation. Minimum R-values vary across New Zealand. Use the map below to check what zone your property is in." - Tenancy Services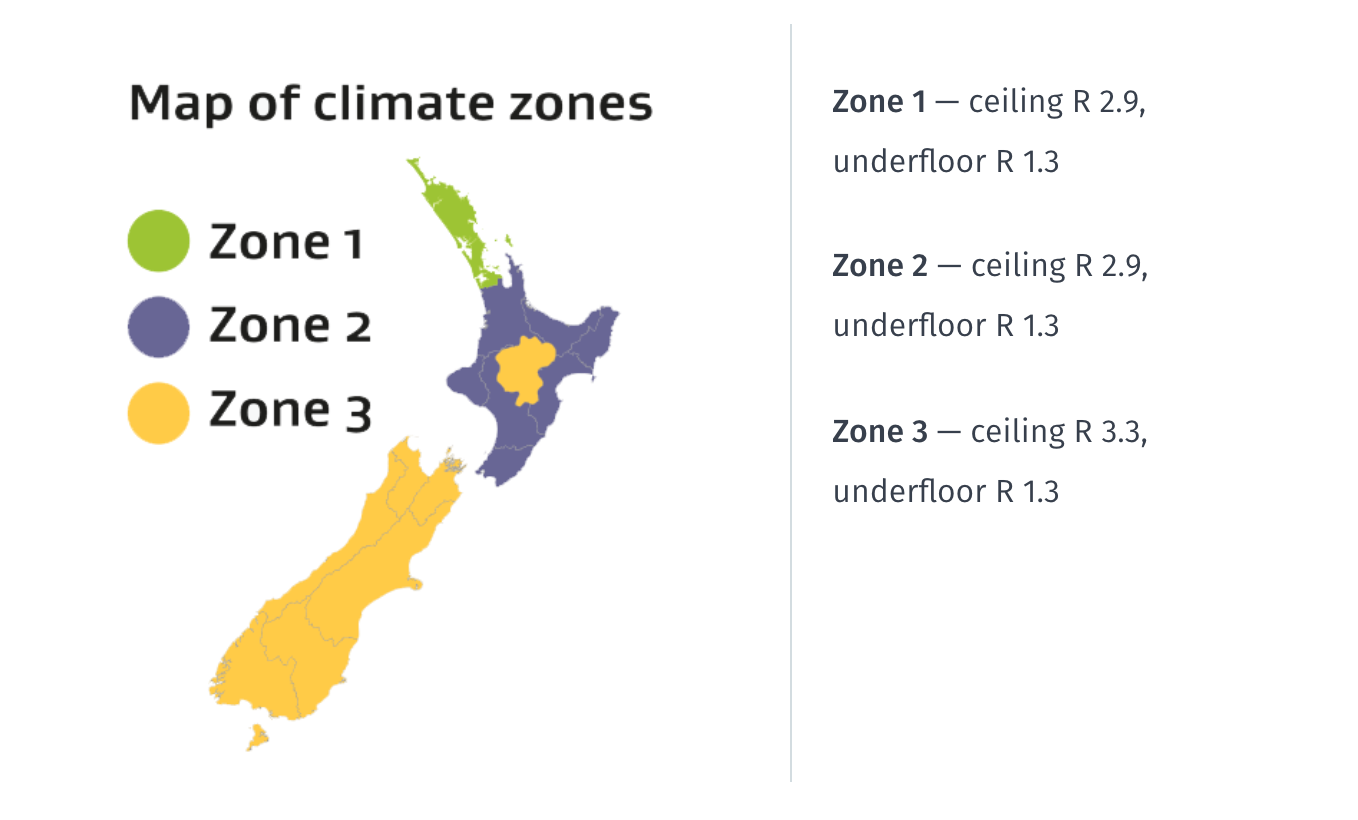 How does Manor Build comply with the insulation standards?

Because we deliver our homes all over the North Island of New Zealand, all our homes meet the Zone 1 and Zone 2 requirements for installation. For homes that are built for delivery to Zone 3 locations, the home will be adjusted to meet the criteria.
Below is a breakdown of the standard inclusion of all Manor Build homes:
Min R3.2 blanket insulation to roof.

Min R2.2 insulation blanket to all external walls.

Expol underfloor insulation.

Aluminium joinery.

All glazing is double glazed, obscure to bathroom/s.

Aluminium sliding glass entry door.
Our ceilings are constructed using Metra construction panels, meaning our ceilings are engineered for strength and durability. Being a solid 25mm thick sheet that comes in a huge 7.2m x 2.45m size, it has fewer joints in it compared to a gib ceiling which helps to retain more heat within the home.
All homes are wrapped in a Rigid Air Barrier (RAB) board, which is installed by PaneliseNZ prior to the cladding going on. This product helps to create a quieter, warmer, healthier, and more energy-efficient home. This is due to the increased thermal efficiency reducing heating costs and energy use for the new homeowner.
Ventilation
"Properties must have at least one door or window (including skylights) that opens to the outside in all bedrooms, dining rooms, living rooms, lounges and kitchens. The openable windows and doors must have a total area of at least 5% of the floor area in each respective room. The windows or doors must be able to be fixed in the open position. All kitchens and bathrooms must have an extractor fan that ventilates externally." - Tenancy Services
How does Manor Build comply with the ventilation standards?
If you check out our range of residential house designs, you will see that all the floorplans show that all bedrooms, bathrooms, and living areas have windows or doors that open to the outdoors and make up 5% of the floor area of the room they are located in. In many cases especially in the living quarters, it is common to find more windows and large slider doors, these not only enhance indoor-outdoor flow but large windows help capture heat from the sun and distribute it throughout the home.
Below is a breakdown of the standard inclusion of all Manor Build homes:
Exhaust fan located in the bathroom with external ventilation.

Kitchen rangehood and exterior ventilation fan.

6kW split system reverse cycle inverter air conditioner (indoor unit installed only with pipework and duct cover ready for connection by client's trades on-site).
From the 1st October, all homes will be supplied with a 4 vent outlet ventilation system which takes warm dry air from the roof space ensuring your home breathes with fresh warm air at all times.
Moisture ingress and drainage
"Properties must have efficient drainage for the removal of stormwater, surface water and groundwater, including an appropriate outfall. The drainage system must include gutters, downpipes and drains for the removal of water from the roof." - Tenancy Services
How does Manor Build comply with the moisture ingress & drainage standards?
Below is a breakdown of the standard inclusion of all Manor Build homes:
'Pre-painted corrugated iron steel roof sheeting.

'Colorsteel' steel deep quad gutter on internal mounting brackets.

80mm PVC downpipes extended to the base of the cladding.
Draught stopping
"Stop any unnecessary gaps or holes in walls, ceilings, windows, floors, and doors that cause noticeable draughts." - Tenancy Services


How does Manor Build comply with the draught stopping standards?

All windows and doors come double glazed, meaning that ​​they are made using two pieces of glass which are separated by an air gap of at least 12mm. Double glazed windows are highly efficient, reducing heat loss by up to 30% when compared to single-glazed windows.
As well as double glazing, the structure of all windows and doors are made using aluminium joinery, which means that the aluminium doors and windows are strong, durable, and highly corrosion-resistant. Unlike timber, they don't need painting or staining to keep them weather-proof, and they won't rust or corrode. They will also never rot, peel or flake, meaning that you will not find noticeable draughts forming.
If you haven't already guessed, in conclusion, Manor Build homes follow all healthy homes standards therefore all homes that leave our factory are healthy home compliant. Whether you're looking for a home for yourself or as an investment property you can rest assured that when you build a Manor Build home, your home is built to the highest standards. Your investment will not only keep the occupants happy and healthy, but it will also reduce unexpected maintenance issues from arising in the near future.
If you would like to learn more about our range of prefabricated homes, including the floorplans and options available download our product brochure today, or visit a new home build for yourself by booking a factory tour.
Tags: Prefab home