How is a Manor Build home built differently?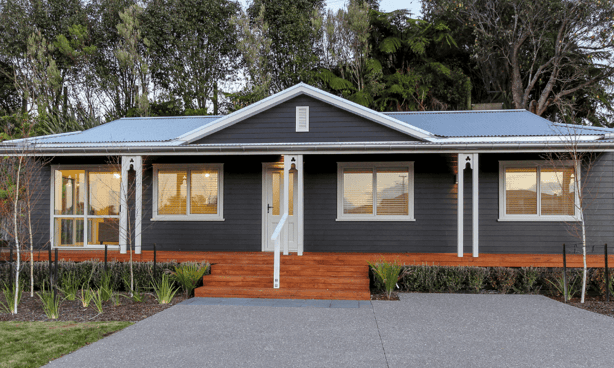 Manor Build is not your average New Zealand building company. Everything we do sets us apart from the rest when it comes to our home designs and completed new builds. Our unique building methods and systems dramatically reduce build times and offer a truly unique home. As times are changing and technology is evolving, we are continually looking for ways to incorporate new and better construction processes and materials to make our homes a cut above the rest.
We build quality homes that make you feel comfortable and secure wherever you're located in the North Island of New Zealand. But what is it that actually makes a Manor Build home different from our competitors? In this article, we explain some of our building processes and materials that we believe put our homes one step ahead of the rest.
Metra Construction Panel Ceilings

All of our homes are built using a ceiling panel called Metra Ceilings. Engineered for strength and durability, this trusted product helps to provide our homes with a lot of strength for living in and for transportation.
Metra Ceilings are proudly made in New Zealand, and the engineered panels are made from New Zealand pine wood fibre which are bonded with specially formulated resins providing repeatable superior quality.
Being a solid sheet, it has fewer joints in it compared to a gib ceiling and also helps retain more heat within the home. The sheets come in 2.4m x 7.2m panels providing a high-quality and consistent finish. The panels are also self-bracing, which means there is less movement from settling over time. The large scale panels cut down instalment times, a Metra Ceiling only takes 20% of the time to install compared to traditional ceiling panels. This is one factor that helps us build such great homes at affordable prices!
Superior Paint System

We have recently begun using a paint system that is scientifically developed for New Zealand's varied weather conditions. From subtropical weather in the far North to inland alpine areas and coastal townships, New Zealand has a range of different climates that all come with varied weather conditions. Our superior paint system for the exterior of the home is designed to provide a durable finish, regardless of the conditions. It holds all of the standard warranties (10 years provided the warranty conditions are adhered to) and the finish it gives is superior to a standard paint system.
When used in the interior of the home, this process ensures the finish is very consistent and smooth.
Wrapped in a Rigid Air Barrier Board

Wrapping the home in a Rigid Air Barrier (RAB) board manufactured by PaneliseNZ prior to the cladding going on helps us to create a quieter, warmer, healthier and more energy-efficient home. This is due to the increased thermal efficiency reducing heating costs and energy use for the new homeowner.
These pre-made construction panels help reduce construction times dramatically. This is another process that helps us to build homes not only efficiently and on time, but also ensures that the build quality is not compromised.

Combining Rigid Air Barrier boards with our solid Metra Ceilings and subfloor and flooring construction means that all Manor Build homes are effectively a fully braced structure giving the home huge amounts of additional structural bracing. You can't get any stronger than this!
High Quality and Reliable

We take pride in knowing that our team strives to create homes that are of the highest quality. No part of our building process is compromised. When you build a home with Manor Build, be assured that the journey will be an enjoyable one! From the moment you start discussions with our professional, friendly and highly knowledgeable sales team to the moment your new home starts its production journey through our factory, we take care of virtually everything for you. Our ethos focuses on creating high-quality yet affordable homes for New Zealanders in a fraction of the time a normal build would take. A whole build with us could be completed in as little as 8-10 weeks, once construction starts.
Because Manor Build homes are built in a controlled factory and delivered to your site once completed, this gives peace of mind that our homes will reach you in the same great condition that they left the factory in.
Our entire team is proud to build our prefabricated homes. From the builders, electricians, plumbers and painters, everyone who works on a Manor Build home from start to finish plays an integral part in ensuring a high-quality product is produced. We have a great working relationship with our contractors and staff, all of which are proud to contribute to the growth and development of Manor Build!
Whether you're looking at buying a starter home, a forever home, accommodation for your farm workers, downsizing, or an investment property, we can deliver a final result that will provide many years of enjoyable living!
If you're interested in learning more about our building process, then why not book a tour of our factory? We have a range of homes all in different stages of construction. We also have a completed Manor Build showhome on site so you can see the superior finished product for yourself. Simply click the link below to book your tour!
Tags: Prefab home