Manor Build's 10 Year Guarantee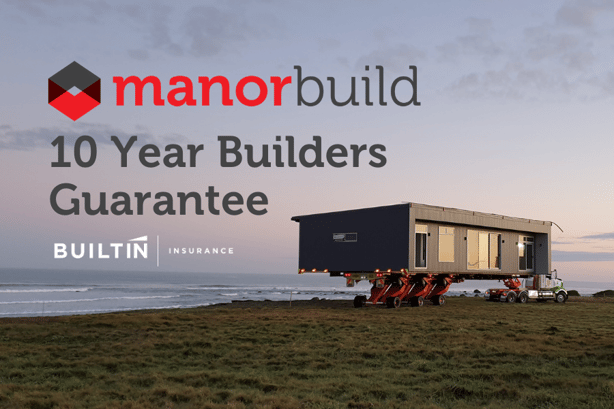 Building any house comes with a sense of the unknown. From how everything will look, whether the space will be large enough, to wondering if you'll love the fixtures and fittings you've selected. The one thing that shouldn't be an unknown is the quality of the house's build and how long it's covered for if things do go wrong.

With a Manor Build home you don't have to worry about this. You have the option of adding on a 10 Year Guarantee to give you added peace of mind. In this article we'll explore the Guarantee in detail, including what it covers and how to apply for it.

Who provides the Guarantee?

Manor Build has partnered with Builtin Insurance for their 10 Year Guarantee. Builtin Insurance is an independent insurer who only offers this guarantee to clients of Accredited Builders (which Manor Build is). In order to become Accredited, Manor Build had to meet criteria for financial solvency as well as qualifications and experience, ensuring that the building of each home is undertaken by a highly competent professional builder.

Having a Guarantee covered by an independent third party offers additional securities and they will honour the cover even if the builder would be unable to. Regardless of what happens Builtin Insurance is there to put things right.

What does the Guarantee cover?

The Builtin 10 Year Builders Guarantee covers refunding a lost deposit, guaranteeing completion of your home, and rectifying defects for 10 years. It is underwritten by Southern Pacific Insurance Corporation to offer real peace of mind.

It's important to note that the Builtin 10 Year Guarantee is transferable, which means it also protects future owners, making it a more attractive investment if you do decide to sell your new home in the future.

How much does the Guarantee cost?

The Builtin 10 Year Builders Guarantee is an optional extra and the cost is based on the value of the Manor Build home, it can be included in your personalised quote if requested.

How do you apply for the Guarantee?

Applying for the Guarantee is easy and Manor Build will do this on your behalf. If you choose to include it with the build of your Manor Build home, the application must be lodged before construction begins - but Manor Build will take care of that part for you! You will then be provided evidence of the scheme's activation once the paperwork has been processed.


So if you're looking for extra peace of mind with your new prefab home build, talk to the team at Manor Build about adding a Builtin 10 Year Builders Guarantee to your new build estimate. Not only will you have extra peace of mind for the whole process but that stress-free feeling can last for up to a decade after the house is completed.

So why not start your Manor Build journey by speaking to a member of the team today. Simply click the link below to start!